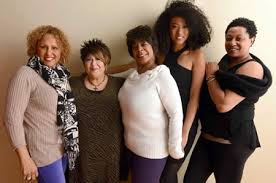 "20 Feet From Stardom" is Morgan Neville's very entertaining documentary about backup singers, the ones who never get to sing in the spotlight because they don't become stars, even though their voices have appeared on hundreds of hit records. It's on my
Movies You Might Not Know
list and was named Best Documentary Feature at both the Academy Awards and the Independent Spirit Awards this weekend.
Ironically, when the movie won the Oscar, the only singer who joined the director and producers at the microphone was Darlene Love, who sang a gospel number very loudly. She's been a terrific singer for half a century, but of all the women featured in the movie, Love is the one who has become the biggest star. She's been on Broadway, in movies, in nightclubs, and on David Letterman's annual Christmas show. In other words, she hasn't spent her entire career twenty feet from stardom like the others in the movie, such as Merry Clayton, Lisa Fischer, Tata Vega, and Sharon Hill. At the Spirit Awards, Vega and Hill joined Love to sing a solid version of "Lean On Me," but at the Oscars, they were neither seen nor mentioned.
That's a shame, because they deserve more acclaim — as the movie proves.