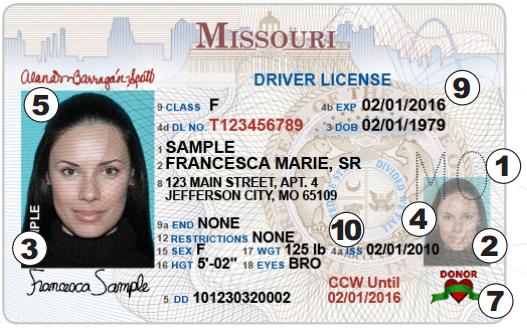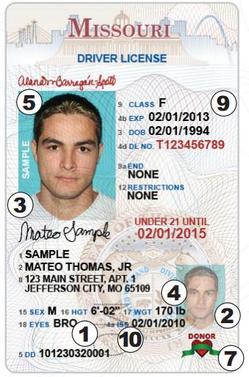 The Missouri Department of Motor Vehicles is phasing in a new driver license it says will fight identity theft, make it harder to create fakes, and make it easier to know if the license-holder is old enough to drink. The DMV claims it accomplishes the former by using temperature sensitive ink, ghost images and bar codes. As for the latter, that's now a simple matter of orientation — they made the license for under-21-year-olds vertical instead of horizontal.
The bad part of the new license is that you won't be able to get one at a License Bureau office any more. You'll still go there to fill out your paperwork and have your photo taken — don't you dare smile! — but you won't be able to leave with your new ID. Instead, the state will mail it to you a week later in an unmarked envelope. Authorities claim this process will ensure that the address you give them is your actual address, a fact that should be clear from all the documentation you have to present to acquire the license.
Here's the problem. Getting a driver license is sometimes a time-sensitive problem. Let's say you're planning to fly somewhere on Friday. On Wednesday night, you run some errands on the way home from work and then stop somewhere for dinner. The next morning, you notice that your license isn't in your wallet. It must have fallen out the previous night. You're going to need that ID tomorrow or you'll never get through security at the airport. So you call the office, tell them you'll be a little late, then drive to the License Bureau to get a new ID — which they won't give you. Good luck convincing the TSA to let you proceed to your gate with the promise that your new license is in the mail.
Same thing when a cop pulls you over for speeding and asks for your license and insurance card. Or when you need your ID to buy some beer for this weekend when your friends come over to watch the NFL playoffs. Or myriad other reasons why you'd need that new license that won't be yours for more than a week.
And who's going to pay for the postage to get your license to your home address? I doubt the USPS will do it for free, considering its own budget deficit. The DMV says it's not raising its standard $10 license fee, but that will have to change after the state pays for the delivery of a million or so in a year.
In trying to solve an identity theft problem that probably isn't as prevalent as authorities claim, it seems they've done some horizontal thinking in a vertical world.
Update at 10:32am…reader Andrew Senger e-mails:
You mentioned providing ID for
traveling and police. The story I read stated you would receive a temporary,
paper license at the DMV. In addition, you get to keep your old identification,
which will be hole-punched and marked VOID. The state says these two documents
will allow you to do the things you need for the next 7 to 10 days. I can't speak for TSA's ability to accept the
temp licenses, but I'm sure the police will know the situation, especially in
Missouri.
That wasn't in either of the stories I read, so I appreciate the information. The hole-punched/voided ID won't be any use, but hopefully, the temporary version won't lead to problems.