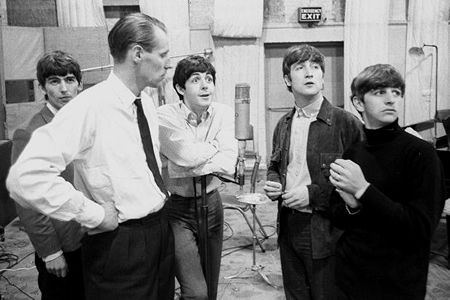 I punched around to various radio stations yesterday to hear which were doing tributes to George Martin by playing Beatles songs and telling stories about him. The answer: very, very few.
For rock stations (or classic rock, classic hits, oldies, etc.), this would have been a good time to drop the previously-formatted music and connect with the audience through one of its core artists. They should be well-rehearsed in that regard after the deaths of David Bowie and Glenn Frey earlier this year, and should be thinking ahead to many more from that generation sure to die in months to come.
But when it comes to The Beatles, even more so. It's hard to go wrong with a group that has connected so many people across generations. It would not have been inappropriate to play nothing but Beatles songs all day and intersperse them with clips of Martin talking about working with them (there are plenty on YouTube).
In the years when I worked in rock radio, we would occasionally do a Beatles A To Z Weekend, playing every one of their songs in alphabetical order from "Across The Universe" to "You've Got To Hide Your Love Away" (okay, technically, it was a Beatles A To Y Weekend). In those pre-internet days, where it was difficult to find such a list, listeners told me they loved trying to guess which song was next, and enjoyed hearing some of the deeper cuts that rarely got played on any radio station (what's the last time you heard "Lovely Rita" or "Hey Bulldog"?). We even threw in Beatles rarities, like the German versions of "I Want To Hold Your Hand" and "She Loves You," and some of the instrumental score of their movies "A Hard Day's Night" and "Help!"
The only problem we ran into was with songs that segued directly into other songs. For instance, the "Abbey Road" medley of "Sun King/Mean Mr. Mustard/Polythene Pam/She Came In Through The Bathroom Window." Because those songs were musically connected on the album, it would have been jarring to hear each of the four played separately in their correct place alphabetically, so we left the medley intact and explained why — both on the air and on the phone to listeners who thought they'd caught us leaving something out.
Ironically, technology hasn't fixed that problem. If you put "Abbey Road" on shuffle on your iPhone, it will jump out of the medley to another song, whether you want it to or not. There used to be a feature in iTunes in which you could assign a "gapless" playback option to situations like that (or, for instance, in Chicago's "Ballet For A Girl In Buchanan" a/k/a the "Make Me Smile" suite), but Apple removed it a couple of years ago. Bad move. It's especially annoying when listening to a classical piece with multiple movements that don't play in the right order (taking it off shuffle solves that).
Imagine listening to a classic rock station yesterday as the DJ announces, with no previous promotion or fanfare, "And now, in honor of George Martin, here's the entire 'Sgt. Pepper' album" — and then lets it track through even the silence between songs until that historic piano chord at the finale. Doing something like that, out of the blue, enhances a station's image by breaking out of the formatic bonds that listeners are so used to and replacing it with a gigantic "WOW!!"
That sort of radio has to start with an innovative program director, someone who recognizes an opportunity and how to exploit it. Unfortunately, too many radio outlets are stuck in a rut, with a PD overseeing multiple stations in a corporate cluster, with no time (or vision) to create those moments.
Instead, all we got was another "Day In The Life" of modern radio.