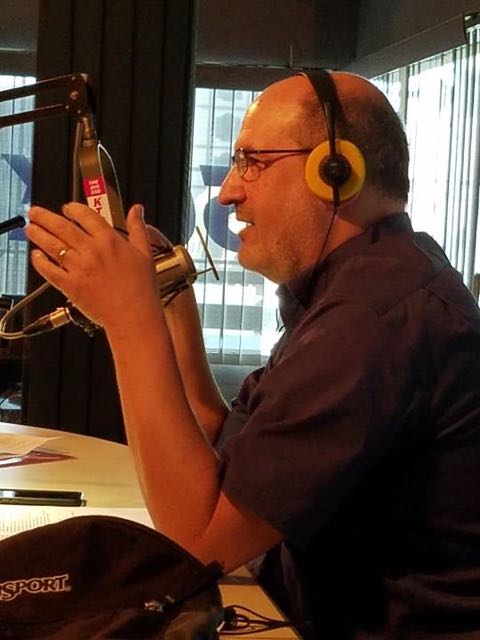 Five years ago, longtime KTRS afternoon host Frank O. Pinion decided he no longer wanted to work a five day week, so he asked me if I would take over Friday afternoons. I had given up full-time radio and was enjoying my semi-retirement with other projects, but being on the air once a week with the freedom to do whatever I wanted appealed to me, so I agreed and have enjoyed holding down that slot since then.
Recently, Frank announced that he is leaving KTRS effective September 14th, and I have received a lot of phone calls, emails, texts, and social media messages asking what that will mean for me.
I'm happy to announce that, for the foreseeable future, I'm not going anywhere. I will continue to do my show — complete with my guest interviews, the Harris Challenge, Knuckleheads In The News®, traffic from Tim Wilund, and talking showbiz with Max Foizey — each Friday from 3pm to 6pm CT on KTRS.
Several people have asked if this is permanent, and I remind them that in the radio business, there is no such word. KTRS management doesn't have a new afternoon host lined up yet, but if they find someone they want to have on the air five days a week, that will mean the end of my show. I'm hoping that won't be the case, because I enjoy keeping my toe dipped in the radio water. I may also pop up here and there filling in for some of the other KTRS hosts, as I've done in the past.
About Frank: from the first time I met him in February, 1999, he has been very supportive of me. Having the radio station's star endorse me from the start gave me a big boost with the KTRS audience that continues to this day, and I have always appreciated it. I understand the reasons why he's moving and wish him all the best at his soon-to-be new radio home, KFNS.
Unfortunately for me, Dan Strauss will be moving with Frank, which means he'll no longer be part of my Friday show. Dan is a very easy guy to like and work with, and often makes the funniest comments of any of us. I will miss him — in and out of the studio — a lot. I'm also sorry that personal circumstances are preventing Ian Geisz from being part of the team, as he too was always a valued contributor.
Bottom line: while some things change, others stay the same.
I hope you'll continue to check out my show every Friday 3-6pm CT over the air on KTRS, or via the station's app or website. Of course, I'll keep posting portions of the show here as podcasts, too.
Most of all, thanks for your kind words — and for listening.