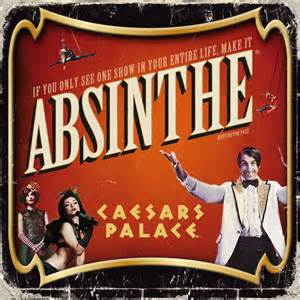 While in Las Vegas last week, on the recommendation of my friend Andy Newman, I went to see a show called Absinthe.
In much the same way that Cirque du Soleil updated the circus concept from the stodgy old Ringling Brothers version, Absinthe takes it to another level. The show takes place in front of Caesar's Palace, in a tent that holds about 600 people. Everyone is very close to the action, which is performed in the round on a stage that's no more than ten feet in diameter.
The acts are remarkable. Some of the acrobats use props — like the opener, who builds and ascends a tower made of chairs taken from audience members — while others have nothing onstage but their talent. There's a roller-skating couple whirling around on that small stage while he holds her by the legs or arms or neck, her head coming so close to the floor you can't help but gasp. There's a high-wire act with two guys and a woman who's a seventh-generation Wallenda. And there's no safety net anywhere.
Since this is Vegas, there's some sexuality built into many of the acts, with performers wearing very little clothing (both male and female), including a stunning female duo who do a trapeze-like routine on some suspended bars…
Another act is Sean and John, twins who comprise the best tap-dancing team I've seen since Maurice and Gregory Hines. They even finish in splits a la their heroes, Fayard and Harold Nicholas (I posted their
Best Dance Routine Ever
as a Picture Of The Day a few years ago).
Andy warned me that the emcee, called The Gazillionaire, and his sidekick, Penny, do some of the most politically incorrect material imaginable, and he was right. They make fun of random audience members' race, ethnicity, sexuality, and anything else they can poke fun at.
On the night I was there, The Gazillionaire spotted some Republican-looking attendees in front-row seats and comforted them by promising there were no black people sitting nearby. When he spotted an African-American man a few seats away, he reassured the Republicans because he was there with a white woman — to which Penny added, "They're gonna make a new president tonight." Then The Gazillionaire pointed out another black guy a few rows away who was with an Asian woman, and Penny remarked, "They're gonna make a new pro golfer tonight!"
I've cleaned up the actual verbiage they used. Suffice it to say that The Gazillionaire and Penny use language you'd never hear at a Cirque show, including one monologue she does about female genitalia which makes clear why you have to be at least 18 to get in. If you're easily offended, or expect trigger warnings before you're exposed to something like this, do not go anywhere near Absinthe. But if you can let that stuff — much of it very funny — roll off your back while you sit back and watch people sacrificing their bodies for your enjoyment, you'll have a great time inside that tent.
One final note: when you're in Vegas, if you walk around the area near the Absinthe box office during the day, you'll often find someone handing out discount coupons to the show. I used one to save $20 off a $109 ticket that put me in the fourth row.