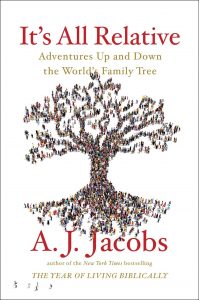 When AJ Jacobs starts a project, he doesn't look for something simple to write about.
He read the entire Encyclopedia Brittanica (remember when that was a thing?) for his 2004 book "The Know-It-All." He spent a year following all the rules in the Bible for his 2007 book, "The Year of Living Biblically." He tried to become the healthiest man alive in his 2012 book, "Drop Dead Healthy." In 2014, he became obsessed with his family tree, at one point putting together the world's largest family reunion.
Now he's taken that to the next level, with a book called "It's All Relative: Adventures Up and Down the World's Family Tree," and returned to my radio show to talk about it. Among the topics we covered:

Whether his research still shows that we are distant cousins;
Whether he uncovered people he wishes he wasn't related to (e.g. Jeffrey Dahmer);
Whether those DNA tests that purportedly reveal your ancestry really work;
How non-traditional relationships (polygamy, gay marriage, children outside of wedlock) make things more interesting for genealogists;
Whether finding out they're related affects the way people treat each other;
Whether that even works for white supremacists who discover they're not "racially pure";
Whether so many people sharing info now makes it easier to find out about people than earlier;
How his wife felt when she found out she'd been having sex with her sixth cousin — him.
Listen, then click here to subscribe to these podcasts via iTunes!
Previously on Harris Online…