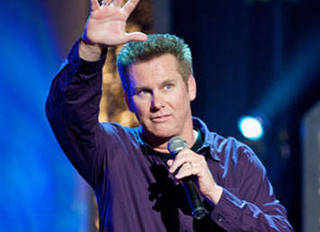 We went to see Brian Regan last night at the Peabody Opera House, completing a season in which we've seen the men and women I consider today's five best touring standups, all at the top of their game — besides Regan, we've seen Paula Poundstone, Jake Johannsen, Louis CK (my review is here), Kathleen Madigan (my review and some of my conversations with her are here).
Each of them has been around a long time. We remember their early days in comedy clubs like the Funny Bone and The Improv. I'm puzzled as to why Jake hasn't broken out to bigger venues like Kathleen and Brian, who we've watched work their way up to 500-seat casino lounges, then start selling out 1,000-seat houses like The Pageant, and now they are filling up large theaters with 3,500-4,000 seats.
That's about as large as a comedy shows should get. At this size, they have to have a video screen onstage so you can see the performer from the balcony (particularly Brian, whose facial expressions amplify his comedy tremendously). I remember seeing Steve Martin on his "Wild and Crazy" tour in the late 1970s playing the Nassau Coliseum, a basketball/hockey arena packed with 15,000 people. Even he knew things had gotten too big. At one point, he said, "I'd like to do something for those of you way in the back in the top rows, so here's my magic dime trick!"
When he was working the clubs and coming to town twice a year, Brian was always one of my favorite radio guests (transcripts and podcasts of some of those appearances are here), and I was fascinated with his devotion to his material. Each time he came to the studio, he was prepared with brand new stuff. He carried a looseleaf full of notes of what he'd talked about during his previous appearances with me. I asked how and why he did that. He explained that he always brought a microcassette recorder, turning it on each time we began a segment. When he got home, he'd hand those tapes over to an assistant who transcribed them verbatim (in case he came up with new material on the spot which he could develop further and add to his act) and gave him a summary page, too. The reason was simple — before we began, he'd review what he'd done before, and then never repeat anything from last time, forcing himself to constantly make new observations and turn them into chunks of his act.
His use of the recorder led to an awkward/funny moment on the air. In November, 1996, I produced the first of three annual benefit comedy concerts for Children's Hospital in Washington, DC. Brian was one of the first performers to agree to do the debut show, along with George Lopez, Bob Somerby, Brett Leake, and Heywood Banks. On the morning of the concert, I had Brian, George, and Bob in the studio simultaneously and they were all very funny.
At one point, after Brian had riffed on some subject for a couple of minutes, I turned to ask George something, and as he began to answer, Brian figured he was done, so he reached over and turned off his recorder. George and I missed it, but Bob saw it and burst out laughing. Then Brian giggled and apologized. George didn't know what they found so amusing, so he asked, and when Bob explained, George chuckled and asked mockingly, "What, we're not good enough to record? Your recorder isn't allowed to capture us on tape?" He went on and on as Brian tried to explain but almost fell off his chair with laughter, which caused all of us to crack up for a full minute. The only way I could regain control was to go to a commercial. A few years later, I reminded Brian of the story and he laughed again and said that, ever since then, he always keeps the recorder going whenever he does radio or TV until he's sure the microphones are off.
Last night, Brian did 90 minutes of great new material, said good night, and then something happened that I've never seen after a standup performance. Joe Bolster (the opening act, also a pretty funny guy) returned to the mike and thanked everyone for coming. Then, with the crowd on its feet, he "convinced" Brian to return to center stage to do some more. That's when people in the audience started shouting out bits they wanted Brian to do.
This seemed weird. It's one thing to ask a singer to do a song you like, because you rarely get tired of songs you enjoy. But jokes are at peak-funny the first time you hear them, and the humor diminishes from there on out. When I go see a comedian, I don't want to hear routines I've heard them do before. The great ones are always working on new stuff, and with a work ethic like Brian's, that's what I want to hear, rather than have him take requests. But since that's what the crowd wanted, Brian dug into his memory bank, re-animated a couple of old routines, then said good night again to another ovation as he walked off.
I haven't talked to Brian in several years, but I'm happy for his continuing success, and that he hasn't fallen prey to the TV industry by accepting sitcom roles as a wacky neighbor or father to mouthy kids. There has always been — and always will be — a place in show business for clever, funny people who can get onstage alone and make thousands of people laugh for 90 minutes or more.
Brian, Paula, Louis, Kathleen, and Jake are among the best.