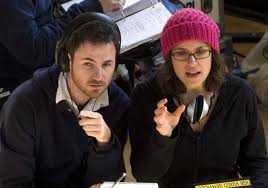 Here's my conversation with Ryan Fleck and Anna Boden, writer/directors of "Mississippi Grind," the gamblers-on-the-road movie that I appear in, along with stars Ryan Reynolds, Ben Mendelsohn, and Sienna Miller. We talked about:

why they used me in the film;
how I first met them and told them some poker stories they incorporated into the script;
why they didn't give me much advice on how to play the scene;
how they cast their leads and whether they changed the script to fit the actors;
how difficult it was to get financing and the role of film festivals;
whether they had any gambling experience before making the movie;
why they added a voice saying "take it" to the end of my scene with Ben;
why they gave James Toback a cameo in the movie;
how they endured a more-than-four-year process of getting the film onto the big screen.
"Mississippi Grind" is a wonderfully-told road movie of two guys making their way from Iowa to New Orleans for a high-stakes home game, and stopping along the way in St. Louis and Memphis for some poker, dog racing, horse racing, blackjack, craps, and — of course, women. As a poker player, I can tell you they got those scenes right, and captured the feel of the cities and the gambling atmosphere perfectly.
It opened in St. Louis this weekend, then rolls out in other cities over the next month. It will be available on DVD on December 1st. Don't let the fact that I'm in it keep you away.
Note: we had an audio problem in the studio on the day this was recorded, so the quality is not up to the standards of previous podcasts. Nonetheless, I wanted to share it with you and hope you still enjoy it.
Listen, then click here to subscribe to these podcasts via iTunes!
Previously on Harris Online…