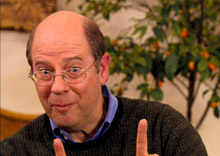 I'm sitting here watching a movie I'm pretty sure was not released theatrically, at least not in most American cities. It's called "Stephen Tobolowsky's Birthday Party," and I have just added it to the Movies You Might Not Know list.
Tobolowsky is an actor whose name you don't recognize, but whose face you've seen in over 100 movies and TV shows — in fact, as I write this, he's listed 184 times on IMdB.com — including "Groundhog Day," in which he played Ned Ryerson, the guy who pesters Bill Murray on the sidewalk.
He's also a hell of a storyteller, which is what he does in this movie. As he celebrates his birthday, Tobolowsky shares stories from his life, his career, and his relationships. He tells how he was named one of the 100 coolest people in LA by Buzz magazine (and lost to Andy Dick). He tells how he encountered a school of dolphins while swimming in the ocean. He tells how friends reacted when he told them he was going to be a father. He tells what happened when someone slipped LSD into everyone's drinks at a party.
Then he tells what it was like playing the head Klansman in "Mississippi Burning," giving a speech in front of a crowd of extras who were really members of the Klan, and it's riveting.
As you — and the group of friends assembled at his house — listen to him talk, you get drawn in, and don't want him to stop. Considering Tobolowsky is pretty much the only person who speaks for 87 minutes, that's quite an accomplishment.