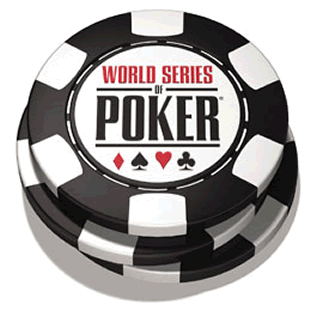 I'm in Las Vegas, where this year's World Series of Poker has just gotten underway at The Rio in Las Vegas. I won't play any of the tournaments, but plan to spend a lot of hours in cash games, as well as recording interviews with Dennis Phillips for our Final Table radio show, and hanging out with several other St. Louis poker players who have made the trip.
Yesterday afternoon, there were dozens of tables going in the live-action corner of the Pavilion, where you could find pretty much any game you wanted to play, from hold'em to Omaha to stud to mixed games, from low-limit action ($1 and $2 blinds) to a huge pot-limit Omaha game with blinds of $250/500/1,000 and a minimum buy-in of $40,000. I was not in that game, but settled in to a $5/5 PLO game for a few hours while some friends founds seats in $5/10 no-limit hold'em games. At dinner, we compared notes and agreed that the games are a little tougher this year — there aren't as many bad players at the tables, but there are more young guns. That's probably due to the fact that they can't play online anymore, so they're sitting down with us live game veterans, and there aren't many soft spots. But it's very early, and the good thing about the WSOP is that the roster of players changes day to day — even hour to hour — and when the weekend comes, the situation will be different.
After dinner, we went over to Aria, where I ran into to Jennifer Harman, who guested on my Final Table radio show recently. When I first called out her name, she turned with a worried look on her face, probably wary of questions about Full Tilt Poker and the Phil Ivey situation (he announced Tuesday night that he's suing the company and won't play in the WSOP because FT hasn't returned player funds yet). When she realized I just wanted to say hello and congratulate her on her successful charity event in Reno a couple of weeks ago, she seemed relieved, as if she just wanted to play some poker and not deal with the controversy. I didn't bring it up as we chatted for a couple of minutes before parting. Then I sat down in another PLO game and played for a few hours with no big swing one way or the other before we called it a night.
It always amazes me to see how much simultaneous activity is going on at the WSOP. It's premature to declare a verdict in the question of how much the Black Friday online poker shutdown will affect attendance, but Media Director Nolan Dalla told me that entries in the first 3 tournaments are up 10-12% over last year. Yesterday, they had a record number of entrants start in the $1,500 Omaha High-Low tournament (925), played two more rounds of the $25,000 Heads-Up Championship (with some marquee matchups including Tom Dwan vs. Gus Hansen), finished the $500 Casino Employees event, ran 3 deep-stack tournaments, plus single-table sit-and-go's and all the cash action.
It goes like this for seven weeks — and overflows into the Strip's other big poker rooms at Venetian, Bellagio, Aria, Wynn, etc. I won't be in Vegas for all of it, but it's exciting to be back.