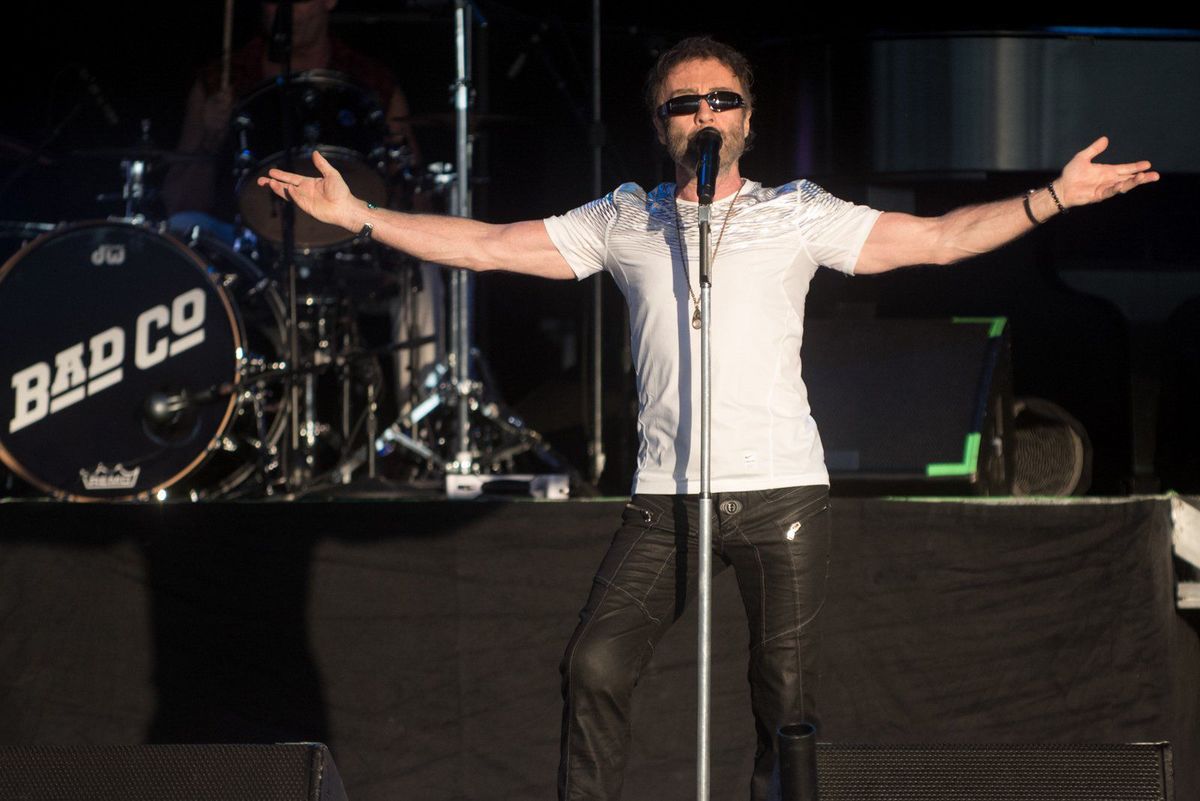 To my knowledge, the only time in music history when a band, song, and album all shared the same name was in 1974, when Bad Company did "Bad Company" on "Bad Company." I got to see them play that tune, and many others, Friday night at Hollywood Casino Amphitheater on a double bill with Joe Walsh.
Paul Rodgers, Bad Company's 66-year-old singer, still possesses one of the great rock voices of all time. Simon Kirke, the original drummer, backed him up, along with three guys who were not there during the band's heyday — including Howard Leese, who was a member of Heart for 23 years before joining Rodgers' band in 1998. That raises the question of when is a band still that band, if many of the people who were members at the beginning have drifted away, died, or been tossed aside by their colleagues?
Last week, I linked to a story about The Zombies, or rather two groups that toured as that band after the original had broken up (in one case, the imposters included Dusty Hill and Frank Beard, before they joined Billy Gibbons to form ZZ Top). That was a pure con job, but what about the ones who tried to carry on?
Certainly Pete Townshend and Roger Daltrey can call themselves The Who long after the deaths of Keith Moon and John Entwhistle. Bill Wyman and Brian Jones stopped being Rolling Stones years ago, but people would really only object if the band toured on without Mick Jagger and Keith Richards. Doug Clifford and Stu Cook renamed themselves Creedence Clearwater Revisited when John Fogerty refused to work with them any longer. Roger Waters and David Gilmour each toured as Pink Floyd after that band dissolved. After a friend went to see Robbie Krieger and Ray Manzarek do an evening of Doors songs a decade ago with a singer no one had heard of, I asked him how it was and he replied, "Well, the guy wasn't drunk or stoned, didn't roll around on the floor, and remembered all the lyrics — so it was probably better than when Jim Morrison was up there!"
With a band like Bad Company, it doesn't matter who's backing up Paul Rodgers. It's his voice that makes their songs work, not the bass player or lead guitarist. Ironically, in 2005-6, Rodgers toured with Queen, but their publicity made it clear that he was not replacing Freddie Mercury — a good thing, because I can't think of two singers with more disparate rock voices.


Joe Walsh, on the other hand, is enough of a star to tour as himself with whatever backup band he chooses. You don't go to see them, you go to see Joe, who may be the most successful person in rock history to sing through his nose.
He did not disappoint on Friday night, playing songs from his early days, the James Gang, the Eagles (including a lovely tribute to the late Glenn Frey on "Take It To The Limit"), and his later solo career, too. At 68, Walsh remains one of the masters of the guitar. His talents — and sense of humor — were on full display as he traded licks with another rock guitar legend in his band, Waddy Wachtel.
My one objection to the night was when Rodgers kept insisting that the audience sing a chorus of a song here and there instead of him (e.g. "Shooting Star"). I didn't pay good money to listen to 10,000 amateurs sing your classic rock hits, Paul. I paid to hear your legendary classic rock vocal chords hitting those notes and melodies. Let the crowd sing along if they like, but your voice should be the only one in the spotlight.