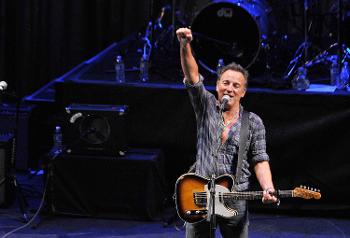 Bruce Springsteen is coming to the Chaifetz Arena on March 6th. Tickets went on sale Friday morning and sold out in 20 minutes before I could get mine. I immediately went to Seat Geek and discovered that I could buy a pair of decent seats on the secondary market for the measly sum of $6,500. No thanks.
Now, the real question: why would Springsteen agree to play in a venue that only fits 10,000 people when he easily sells out the larger Scottrade Center's 19,600 seats? Okay, so there's some sporting event booked for that night. Are you telling me there's no other date on the Scottrade Center calendar that could accommodate him?
At an average ticket price of $150, playing in the smaller arena means giving up $1.44 million!! He's going to do the same show and his costs are the same, so why deter so many of his fans from seeing him?
Bad move, boss.