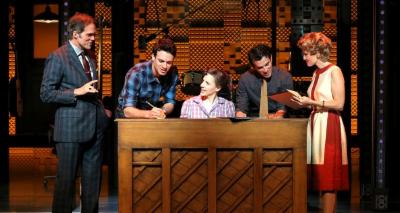 Last April, I raved about "Beautiful," the Broadway show about the life and career of singer/songwriter Carole King, and recommended you see it if you get to New York. Well, now you don't have to, because the bus-and-truck national tour of "Beautiful" has come to St. Louis, where it plays through March 6th (get tickets here). Since my wife wasn't with me on the New York trip, I took her to opening night at the Fox Theater, and I'm happy to report that this production is just as good as the original.
The lead role is played by Abby Mueller (whose sister Jessie won a Tony for originating it on Broadway) with a strong voice, the right amount of empathy in the dramatic parts, and very good comic timing in others. The rest of the cast matches her song for song, especially those who play Gerry Goffin, Cynthia Weil, and Barry Mann.
As jukebox musicals go, "Beautiful" is much better than "Jersey Boys" — and one of only a few centered around a female lead character — so I'm happy to see it touring North America and with a production in London, too. With singalong-ready songs like "It's Too Late," "I Feel The Earth Move," "A Natural Woman," and "Locomotion" (not to mention hits by The Drifters and The Shirelles), I bet it runs for a long time.