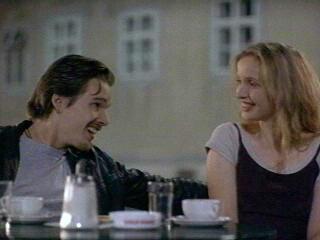 My wife and I consider "Before Sunrise" one of the most romantic movies ever made, and loved its sequel, "Before Sunset," too. We introduced our daughter to them when she was old enough, and she counts them among her favorites, as well. We're all looking forward to the third film, "Before Midnight," which opens here in a couple of weeks and is dedicated to Amy Lehrhaupt.
Who is that? She's not an actress, writer, producer, cinematographer, or key grip — but it's safe to call her the spark. According to Forrest Wickman, Lehrhaupt is the woman who writer/director Richard Linklater spent several hours walking, talking, and flirting with one night when he was in his twenties. The evening (which ended at dawn, thus the original title) served as the inspiration for "Before Sunrise" — so much so that Linklater even told her during that night that it would make a great movie.
And it did. Sadly, she died just before he started filming with Ethan Hawke and Julie Delpy.