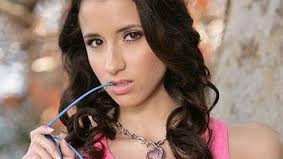 Belle Knox just finished her freshman year at Duke University, but that's not what made her famous — it was her decision to make enough money to pay tuition by becoming an adult film star. She has appeared in dozens of sex scenes, been the featured act at strip clubs, appears in the latest issue of Penthouse, and joined me on America Weekend to talk about her experiences in the last year.
Among the topics we discussed:
which came first, the bill for college or her decision to do adult films;
how she was harassed and threatened on campus after a male friend outed her real identity;
why she was invited to lecture to Duke classes, and how professors have treated her;
whether working in that industry ever gets boring;
whether her new profession has made it impossible to date regular guys.
Listen, then click here to subscribe to these podcasts via iTunes!
Three notes about this interview:
1) After it aired, I heard from a listener who was appalled I would have an on-air conversation with someone in the adult film business, asking "Would you want your daughter to do that?" My answer was that I don't book guests based on any criteria other than "Is this person interesting, or have a story to tell, or can speak about a topic they're passionate about?" My daughter's future employment doesn't enter into the picture. As a father, there's a long list of jobs I would not like her to undertake — but I'm glad others do those jobs, so I can talk to them about it. I host a radio show, not a career counseling center.
2) You'll notice that at no time do I mention Belle's real name, or the name of the guy who outed her. Why? Because it's irrelevant in both cases. Besides, there are lot of people in show business who don't use their real names.
3) Despite what Belle does for a living, I kept our conversation clean because that's how I conduct all of my interviews (it's also why I chose the photo above rather than some of the hundreds of more revealing images of Belle you can find on your own with a simple search). There are plenty of other radio hosts who want to get into salacious details because they're obsessed with the subject. Some of them, while thinking they're being clever, come off as rude jerks. In fact, Belle's publicist told me just before we went on the air that he'd had to terminate her previous interview after just a few minutes because the guy conducting it had gone down that path from the very start and it only got worse. It's not hard for me to imagine how that went, but knowing that she was recovering from that bad experience, I was glad I was able to get Belle comfortable quickly so we could have a good conversation.