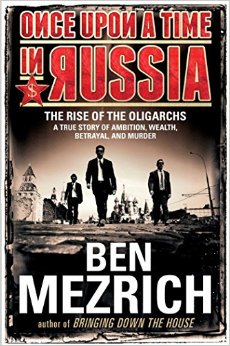 I was happy to welcome Ben Mezrich back to my show today because he's a great storyteller. You may know some of Ben's books, or at least the movies they spawned, including "Bringing Down The House" (which became "21") and "The Accidental Billionaires" (which became "The Social Network").
His newest is "Once Upon A Time In Russia," the story of the men who became very rich and very dangerous after the collapse of the Soviet Union, when President Boris Yeltsin pushed the country towards capitalism by privatizing Russia's biggest industries. The power and wealth of those oligarchs grew until Yeltsin left office and was replaced by their chosen successor, Vladimir Putin, who then changed the game.
I asked Ben what got him interested in these stories (hint: there are explosions and assassinations), whether the power of these oligarchs had any equivalent in the Mafia (or in America), and whether he was worried about putting this history on the record. We also discussed the ex-KGB official who was poisoned by something radioactive in 2006 (probably in retribution for crossing Putin), how Putin's power differs from Yeltsin's, and whether sanctions by western nations are having any effect on modern-day Russia. Oh, yeah, we also talked about the suitcases full of cash.
Listen, then click here to subscribe to these podcasts via iTunes!
Previously on Harris Online…