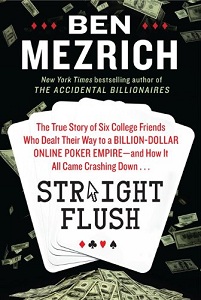 Ben Mezrich's book "Bringing Down The House" became the hit movie "21" and his book "The Accidental Billionaires" became the hit movie "The Social Network." I've talked to him about those and other books he's written, like "Sex On The Moon" and "Ugly Americans."
Now he's back with "Straight Flush: The True Story of 6 College Friends Who Dealt Their Way To a Billion-Dollar Online Poker Empire, and How It All Came Crashing Down," so I invited him to my America Weekend show to talk about it.
The book is the story of Scott Tom and his frat buddies who started Absolute Poker, where lots of Americans played poker online — although it was nowhere near as big as PokerStars or Full Tilt Poker — before the government pulled the plug on all online poker sites on April 15, 2011. Even before that, AP had serious problems with cash flow, payment processing, and a cheating scandal that went to the top. I asked Mezrich about all of that, as well as:
how he came to the story;
the flak he's getting from posters in poker forums who don't like the spin he's put on people they consider thieves;
whether the AP guys were more interested in their high-flying lifestyle after becoming rich than making sure the games and players' money were secure;
whether Kevin Spacey is planning to make this book into a movie, too.
Listen, then click here to subscribe to these podcasts via iTunes!
Previously on HarrisOnline…