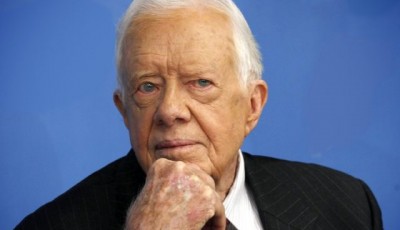 Six months ago, I wrote a short piece praising Jimmy Carter as our Best Ex-President Ever. Now here's NY Times columnist Nicholas Kristof on Jimmy Carter's legacy…

It's true that Carter sometimes floundered as president. He also had great difficulty, as an outsider, managing Washington, and suffered from a measure of anti-Southern prejudice. When the Reagans took over 1600 Pennsylvania Avenue, their interior decorator reportedly couldn't wait to "get the smell of catfish out of the White House."

But Carter was also a pioneer. He was the first to elevate human rights in foreign policy. He appointed large numbers of women, Latinos and blacks. He installed solar panels on the White House (President Reagan removed them). He established diplomatic relations with China.

Carter also had a deep sense of honesty — sometimes too deep. Other politicians have affairs and deny them. Carter didn't have affairs but nonetheless disclosed that "I've committed adultery in my heart many times." File that under "too much information."

After leaving the presidency, Carter could have spent his time on the golf course. Instead, he roamed the globe advocating for human rights and battling diseases from malaria to blinding trachoma.

Because of Carter's work, the world is very close to eradicating Guinea worm disease, an excruciating ailment, and has made enormous headway against elephantiasis and river blindness as well. Only five cases of Guinea worm disease have been reported worldwide in 2015: It's a race, Carter acknowledges, between him and the Guinea worm to see which outlasts the other.

I'm betting on Carter.
Read Kristof's full piece here.
This week happens to mark six years since Carter severed ties with the Southern Baptist Convention after six decades over its leaders ordaining that women must be subservient to men and may not serve as chaplains in the military. His explanation:
This view that women are somehow inferior to men is not restricted to one religion or belief. Women are prevented from playing a full and equal role in many faiths. Nor, tragically, does its influence stop at the walls of the church, mosque, synagogue or temple. This discrimination, unjustifiably attributed to a Higher Authority, has provided a reason or excuse for the deprivation of women's equal rights across the world for centuries.

At its most repugnant, the belief that women must be subjugated to the wishes of men excuses slavery, violence, forced prostitution, genital mutilation and national laws that omit rape as a crime. But it also costs many millions of girls and women control over their own bodies and lives, and continues to deny them fair access to education, health, employment and influence within their own communities.

The impact of these religious beliefs touches every aspect of our lives. They help explain why in many countries boys are educated before girls; why girls are told when and whom they must marry; and why many face enormous and unacceptable risks in pregnancy and childbirth because their basic health needs are not met.

In some Islamic nations, women are restricted in their movements, punished for permitting the exposure of an arm or ankle, deprived of education, prohibited from driving a car or competing with men for a job. If a woman is raped, she is often most severely punished as the guilty party in the crime.

The same discriminatory thinking lies behind the continuing gender gap in pay and why there are still so few women in office in the West. The root of this prejudice lies deep in our histories, but its impact is felt every day. It is not women and girls alone who suffer. It damages all of us. The evidence shows that investing in women and girls delivers major benefits for society. An educated woman has healthier children. She is more likely to send them to school. She earns more and invests what she earns in her family.

It is simply self-defeating for any community to discriminate against half its population.