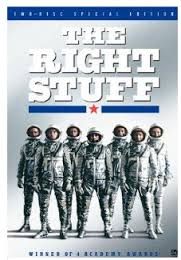 Wired has an oral history of the best movie ever about the US space program, "The Right Stuff," with quotes from writer/director Philip Kaufman, stars Ed Harris, Sam Shepard, and Fred Ward, cinematographer Caleb Deschanel, and producers Irwin Winkler and Robert Chartoff. It includes info on casting, how they did some of the low-tech special effects, and how they ran into some obstacles with the federal government…
WINKLER: We had trouble getting permission from the Pentagon and NASA to use their facilities. John Glenn was a senior senator and didn't like the way he was depicted. They were talking about him running for president. He tried to stop the government from giving us cooperation. He went to the Pentagon and told them not to give us permission.


CHARTOFF: A month before we began, NASA withdrew their permission for us to shoot at their facilities. It was a disaster. I flew to Washington and met with the head of NASA. I called John Glenn's office and arranged a meeting with them, as well. At NASA, I went in and argued that pulling our access wasn't fair—we're American citizens and should have the right to use the facility, and no one individual should be able to stop us. That was the only argument I could think of. The guy said, "Call me back tomorrow morning, 10 o'clock, I'll give you an answer." I had an appointment at noon the next day with John Glenn. The next morning I called NASA. They said, "We have no right to deprive you of use of our facilities, you've got them." Then I called John Glenn's office and canceled my appointment.


CALEB DESCHANEL: When we were at Edwards Air Force Base, we really had the run of the place. We'd be right along the runways. Some pilots would get ticked off because we were too close. But Yeager was with us a lot of the time. One pilot landed and was like, "Who the hell are you?! What's going on?! Who's in charge?!" Finally Chuck Yeager turns around, and the guy's face suddenly fell. He said, "Oh, General, I'm really sorry, I didn't realize that you were with these guys." You could do anything you wanted at Edwards as long as Yeager was around.