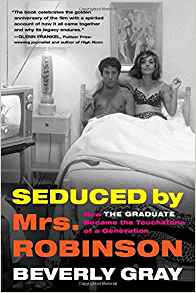 This year marks fifty years since the release of "The Graduate," starring Dustin Hoffman, Anne Bancroft, and Katherine Ross. On its golden anniversary, here's my conversation with Beverly Gray, author of "Seduced By Mrs. Robinson: How The Graduate Became The Touchstone Of A Generation."
I started our discussion at the end of the movie, when Hoffman and Ross' characters are riding away in the bus as their laughter fades into a realization of what they've just done. Gray explained how director Mike Nichols got that perfect final shot by accident. We also talked about how each of the leads got their roles, how Nichols chose Simon and Garfunkel music for the soundtrack, and what "The Graduate" meant personally to Gray, who was a UCLA senior when it was released.
Listen, then click here to subscribe to these podcasts via iTunes!