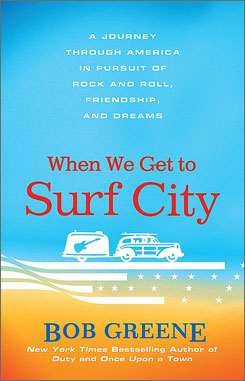 Bob Greene is one of my favorite storytellers, which is why I love having him on the show. Today on WLS/Chicago, we talked about his new book, "When We Get To Surf City," the story of his 15 summers touring with Jan and Dean from the early 90's to the present.
They play oldies shows, state fairs, and corporate gigs. He gets to meet some of the people who made the music for the soundtrack of his youth, from Chuck Berry to Ronnie Spector, from the Beach Boys to The Kingsmen. We discussed all of that, plus the post-gig meals at The Waffle House, whether they're making a good living on the road, and what it was like to have his father in the audience for one concert (the first and only rock concert his dad had been to). Bob also told a heart-wrenching tale about the after-effects of Jan Berry's car accident and how it forced him to re-learn his own songs every day on tour.
Listen, then get your own copy of "When We Get To Surf City."
Click here to subscribe to all of my podcasts via iTunes!
My favorite previous interviews with Bob Greene:
May 2006 for "And You Know You Should Be Glad"
November 2004 for "Fraternity: A Journey In Search of Five Presidents"
November 1997 for "Chevrolet Summers, Dairy Queen Nights"