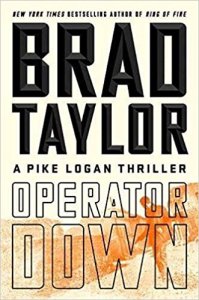 Brad Taylor spent more than two decades in the US Army, including 8 years in special forces as part of Delta Force. He retired as a Lieutenant Colonel, then went on to teach military science at The Citadel. He's also the author of the popular Pike Logan series of books, including the newest entry, "Operator Down." In it, special agent Pike Logan and his team stumble onto an attempted military coup in Africa when they search for a missing Mossad agent.
We talked about how he researches his books, whether he has to be careful about revealing confidential technology and spy craft, and whether his books will become TV series or movies. Then we broadened out to discuss North Korea, Iraq, and Afghanistan.
Listen, then click here to subscribe to these podcasts via iTunes!