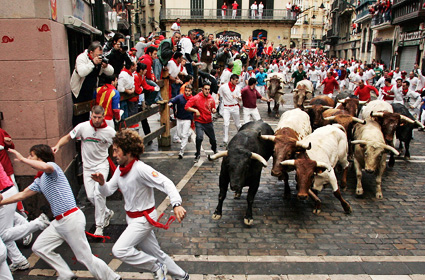 Every year at this time in Pamplona, Spain, thousands of people come together for the San Fermin Festival, the centerpiece of which is the Running Of The Bulls, where hundreds of humans run through the streets, chased by large bulls on their way to the city's bullfighting ring. Since those bulls will eventually die in the ring, I root for them to take out a few runners along the way.
Brant Wilkins was one of the guys running with the bulls, and he's going back next week for another adventure in beating the bovines. Today on KTRS/St. Louis, he joined me to talk about why he does it, what it was like last year, and how he ended up sleeping in an ATM vestibule instead of a hotel.
Listen, then click here to subscribe to these podcasts via iTunes!
Brant told me off the air that he's going to try to capture some video via an iPod Nano he'll attach to the back of his head, which he'll post online. When he does, I'll re-post it here, with his permission.