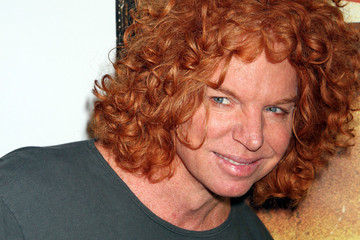 While in Vegas a week ago, I had a free evening with nothing to do, so I decided on a whim to go see Carrot Top's show at The Luxor. I'm not a huge fan of his, but I've liked some of his TV appearances, and think some of his prop comedy is kinda clever. I went online, found a discount ticket ($40 instead of $65), and chose a seat in the 8th row. Based on my ease in getting that seat just a few hours before showtime on a Monday in the middle of summer, I figured the place would be mostly empty — but to my surprise, the theater (which probably seats 500) was packed!
I wasn't sure what to expect, but got a sense of what was to come from the videos being projected before the show. They were like a greatest-hits reel from "America's Funniest Home Videos" that had been winnowed down to nothing but shots of guys being hit in the nuts, one after another, mixed with clips of animals humping. Okay, so it was going to be an intellectual show.
After an opening act whose name I've already forgotten, Carrot Top hit the stage and began one of the most joke-intensive performances I've seen since Rodney Dangerfield. He moved from trunk to trunk, pulling out a prop he'd built, making a joke about it, and then tossing it off stage while moving on to the next.
The not-so-family-friendly onslaught of jokes had something to offend everyone. This was not the ready-for-television Carrot Top. He did a lot of self-deprecating humor and makes fun of the Luxor, but also went after other Las Vegas celebrities from Mariah Carey to Celine Dion to Elton John to Criss Angel (who has a show in the same building). He made fun of country acts and rock singers, did some topical political stuff (of course there was a Donald Trump joke!), and engaged his audience quite a bit.
But it wasn't all prop comedy — and this is where the show shocked me. Amid all the jokes and props, Carrot Top's show was a precision-timed act with musical stingers, sound effects, lighting effects, and video clips intertwined with stage banter as perfectly as anything I've ever seen. After a decade at The Luxor, he and his crew have their timing down. It's impressive. So is the physical energy required to keep that up for 70 minutes, non-stop.
I know I walked out of there exhausted. And pleasantly surprised.