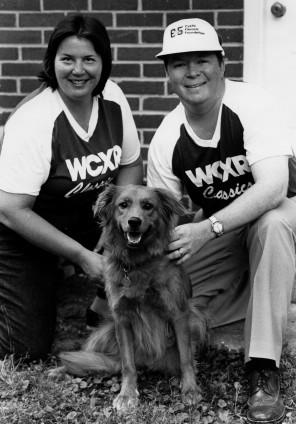 photo by Harry Naltchayan, The Washington Post — August 8, 1988
I got a call a few days ago from Washington Post columnist John Kelly with some questions about Cindy The Weather Dog, who became famous on my morning radio shows in DC in the 1980s and 1990s. I filled him in on my memory of Cindy and those years on the air in Washington. He wrote it up in an Answer Man
column
that appeared in yesterday's newspaper:
"In the summer of 1987, the first summer I was there, I got a call one day from a listener named Doug Griggs, who said he had a dog that could predict the weather," Paul told Answer Man. "I said, 'Sure you do.' He said, 'Really, I do.'"

The dog was a golden-retriever mix named Cindy. In 1987, Doug and his then-wife, Nancy, lived in Alexandria and worked at the Federal Reserve in the District. Cindy loved being outside, but only on dry days. If the weather forecast called for sun, Doug would put her outside before the couple left for work. Cindy would frolic in her fenced dog run and nap in her dog house.

One morning, as Doug went to put Cindy out, she put all four paws down and refused to leave the house. He couldn't shift her. He left her indoors, even though the forecast indicated only the slightest chance of rain. That afternoon, there was a tremendous thunderstorm.

"That got us thinking," Nancy said. "What did she know that we didn't know?"

They decided to let her choose each morning. If they opened the back door and Cindy went out, it meant it wasn't going to rain. This was the news that Doug shared with his favorite radio personality.

"If you're a good broadcaster, you recognize this is something you can play with," Paul said. He added Cindy to his morning mix, telling listeners what the mutt-eorologist predicted. If Doug was late in making his daily a.m. call to the station, listeners would phone in demanding to know what the dog had said.

"Cindy was remarkably accurate," Paul said. "I would say better than 90 percent."
You'll have to read Kelly's full column to find out what happened to Cindy (and Doug and Nancy), who along with The Marching Weathermen made mine the only radio show in history to have both a marine and canine perspective on each day's forecast.
By the way, the photo above was taken August 8, 1988, for a story the Post did about Cindy's role in my WCXR morning show in its heyday.