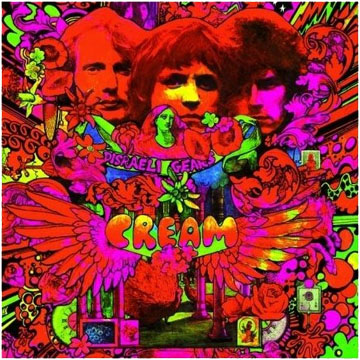 An interesting piece of rock history noted in the NY Times obituary of artist Martin Sharp, who died last Sunday at 71…
It started with a beer at a bar in London in 1967. Mr. Sharp had arrived the year before to start London Oz, an extension of the irreverent Australian magazine Oz, for which he had been artistic director. At the Speakeasy Club on Margaret Street, he befriended two musicians. When Mr. Sharp mentioned that he had written a poem that might make a good song, one of the musicians said he had just come up with new music but needed lyrics. Mr. Sharp scratched out his poem and his address on a napkin.

A couple of weeks later, the musician dropped by and gave him a 45 r.p.m. record. He was a guitar player for a band called Cream. His name was Eric Clapton.

On the A side of the 45 was "Strange Brew." On the B side was Mr. Sharp's poem put to music, "Tales of Brave Ulysses."

Mr. Clapton soon moved in with Mr. Sharp, their girlfriends and others in a group of studio apartments called the Pheasantry. By the end of the year, Cream had released the album "Disraeli Gears." "Strange Brew" and "Tales of Brave Ulysses" were on the record, and Mr. Sharp's psychedelic artwork was on the cover, one of the most recognizable in rock history: a lush sprawl of color that blended photographs of the band members with a fluorescent garden of feathers and flower petals.