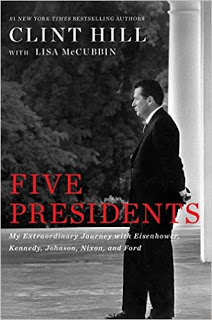 Clint Hill was a Secret Service agent for 17 years, helping to protect Presidents Eisenhower, Kennedy, Johnson, Nixon and Ford. He writes about his experiences in a new book, "Five Presidents," and joined me to talk about it. Among the topics we covered:

The day Elvis Presley showed up at the White House to request a meeting with President Richard Nixon;
Nixon's weird early-morning trip to the Lincoln Memorial during a massive anti-war protest;
The challenge of protecting LBJ in 1968 after the assassinations of Martin Luther King and Robert Kennedy;
Dealing with a group of students who staged a sit-in inside the White House in 1964;
How Hill overcame the massive grief and guilt he felt about not stopping the assassination of President John Kennedy.
Listen, then click here to subscribe to these podcasts via iTunes!
Clint Hill will appear at the Missouri History Museum on Thursday night, May 19th, to discuss, sign, and sell copies of his book, "Five Presidents."