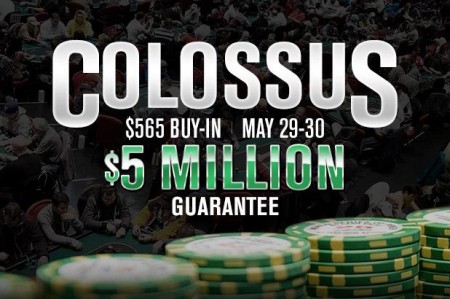 I won't be on the air this afternoon because I'm at the Rio in Las Vegas for the World Series Of Poker.
When most people hear that, they assume I'm playing in the WSOP Main Event, because that's what they see on ESPN each fall. But the WSOP is actually made up of hundreds of tournaments — 67 of which culminate with a winner getting a gold bracelet — starting this week and continuing through the Main Event, which begins July 5th.
Some of the tournaments last one day, others take several days to complete. Some of them are no-limit hold'em events, others are stud, Omaha, draw, or other forms of poker, all with varying buy-in amounts. There are a lot of satellite tournaments, where you can win entry to bigger events, as well as single-table tournaments, where ten players compete against each other for all the chips and prize money. And while all of this is going on at the Rio, there will also be lots of poker games at Bellagio, Aria, Venetian, the Wynn, and many other Vegas venues.
Although I've made a few final tables, I'm not much of a tournament player. I enjoy cash games much more, with their freedom to start and stop anytime, to pick up my chips and walk away, to switch games or tables, to mix it up at different stakes, and to take a bathroom or meal break whenever I like. However, I can't resist the huge event that's beginning today — The Colossus — which will have more entries than any other live poker tournament in history. It's going to be so big that there won't be any tables left for cash games (or much else).
The Colossus will run in four flights (10am and 6pm today and tomorrow) and players can enter any or all of them — if you bust out of one, you can enter one of the others, which I expect a lot of people to do. That means there will be much looser play today, with people putting all of their chips at risk on big draws, knowing that if they are eliminated, they can buy in again tonight or tomorrow (or both). By the time the cards are shuffled and dealt for the first hand, I expect that Flight A will have sold out all 4,600 seats, with the others likely to do the same eventually. My original guess for entries was about 15,000, but it could approach 20,000 by the time Flight D rolls around, with late waves included.
I pre-registered for The Colossus and will give it my best shot, beginning this morning, but I had a small glitch yesterday. After arriving at the Rio, I discovered that the Will Call line was much longer than I expected — several hundred people were ahead of me. It took over 2 hours to get to the counter, and then the staff couldn't find my paperwork. It took another 40 minutes before a supervisor went to the cashier cage to manually reprint my entry tickets. With those in hand, I went to dinner with my friend (and WSOP Media Director) Nolan Dalla. Then it was off to bed to try to get a good night's sleep before we start this thing at 10am.
If you're interested in my progress, I'm going to post updates on my Twitter account (@PaulHarrisShow), which will feed both this site (upper right) and my Facebook page.
And, for you sci-fi movies fans, while at The Colossus, I'll be sure to keep an eye out for Dr. Forbin.