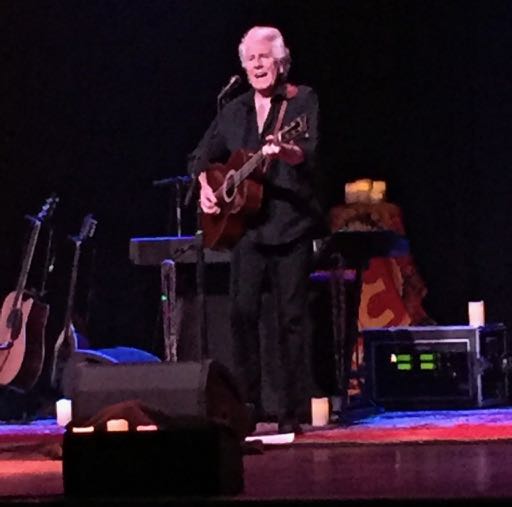 Graham Nash may be 76 years old, but he still looks great (with a silver mane of hair) and sounds great, too. He's able to hit the high notes that a lot of other rockers can't at his age. When he brought his Intimate Evening Of Songs and Stories to the Pageant on Sunday night, my wife and I were both glad we went.
One of the best things about a Graham Nash show, other than his voice, is that you can understand all the lyrics, even in the songs you've never heard before. He played a few of those, sprinkled among classics from various stages of his career. From his partnership with Crosby and Stills, he opened with "Wasted On The Way" and "Marrakesh Express," then went back to that songbook later for the beautiful and haunting "To The Last Whale," "Cathedral," and "Lady Of The Island" (from their first album). He also touched on his years with the Hollies, singing "Bus Stop" and a medley of "On A Carousel" and "Carrie Anne." From other songwriters, he threw in The Beatles' "A Day In The Life" and, in the encore, Buddy Holly's "Everyday," sung in perfect three-part harmony with guitarist Shane Fontayne and keyboardist Todd Caldwell. Those were the only two musicians on stage with Graham (no drummer), which helped give the concert a more intimate feel, particularly in a 2,000-seat venue like The Pageant.
Along the way, Graham told the stories behind some of the songs, including how a stop at the US-Canada border at the end of a CSNY tour had led him to write "Immigration Man," and how his dope dealer in Hawaii had once bet him $500 that he couldn't write a song before heading to the airport for a flight to Los Angeles, where Graham was due for a recording session. The dealer lost the bet when Graham quickly penned "Just A Song Before I Go." Considering that two-minute tune became the highest charting song in CSN history, Graham explained that if he knew it was going to be that popular, he would have written a better song.
He has written plenty of great songs, including the simple tune he came up with while living with Joni Mitchell, "Our House," as well as the closer, "Teach Your Children," which he dedicated to all teachers, everywhere.
One last note. On the way in, there were a couple of people going down the line asking people to sign petitions to make medical marijuana legal in Missouri. This is an issue that, if they get enough signatures, may become a referendum on the ballot this fall. I hope these activists are doing this before every show at The Pageant, but this one seemed like an easy sell, considering the average age of Graham Nash fans. Most of us were smoking weed recreationally 40 years ago, but now that we've grown up, we need medical marijuana for all our Medicare aches and pains!