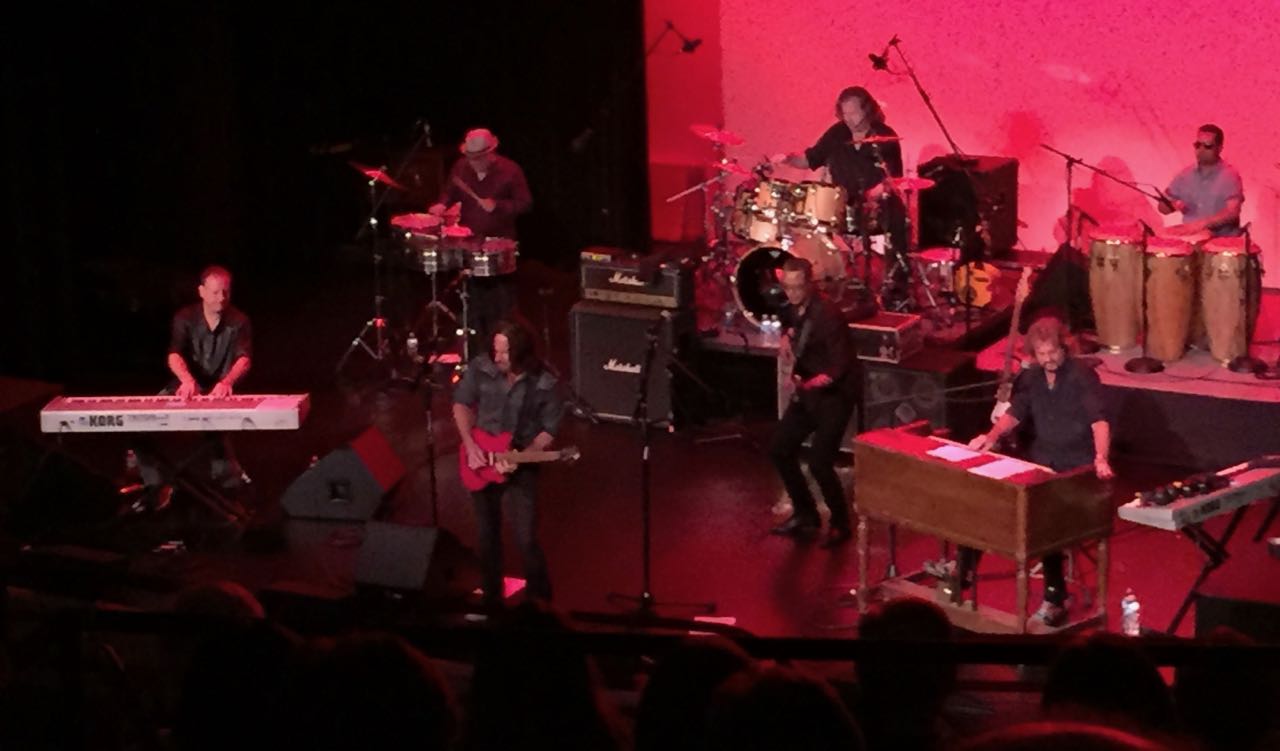 I had a case of deja vu seeing Gregg Rolie and his band last night at the Wildey Theatre in Edwardsville, IL.
What made it weird was that, 50 years ago, Rolie was co-founder, lead singer, and keyboard player for Santana — who I had seen at the Fox Theater in St. Louis ten days earlier. At his show, Rolie performed many of the hits he'd originally done with Santana, starting with "Evil Ways," and then rolling through "Tingo," "Oye Como Va," "Black Magic Woman," and others. Rolie was also part of the original lineup of Journey (making him a two-time inductee to the Rock and Roll Hall of Fame), but he only dug two of their songs out of the past, neither of which was among the band's big hits.
Throughout the evening, Rolie's voice sounded as good as ever, pretty remarkable considering he sang some of these songs all the way back at Woodstock in 1969. He's no slouch playing my favorite instrument in the rock canon, the Hammond B3 organ, either. His band was pretty tight, even though it contained three percussionists (on a drum kit, congas, and timbales), which inevitably meant having to sit through solos by each of them — the bane of my rock concert existence.
When it was over, I was surprised 100 minutes had passed, because I thought it had only been about 70. That says something about the quality of the music Rolie and his group gave us.
Speaking of quality, there was a serious lack of it at the place we went to dinner before the show. A few years ago, when my friend Bob and I went to the Wildey to see Roger McGuinn, we stopped in for a quick meal at Laurie's Place, on Main Street in Edwardsville. That night, the service was terrible. No waitress took our order for almost 15 minutes after we sat down, and then it took well over a half-hour for our food to arrive. We chalked it up to "well, any place can have an off night." So we went back this evening and discovered it wasn't an anomaly, as we had the exact same experience.
When the food hadn't come after 30 minutes, Bob asked the waitress when we'd get to eat, and she replied, "I'm sorry, we're really slammed tonight and things are backed up in the kitchen." Um, no, that's not a valid excuse, especially on a Saturday night when you knew you'd be busy because there's a concert crowd in town and your restaurant is only about 25 yards away from the venue. While the place was packed, it shouldn't take that long to make easy bar food unless you only have one person in the kitchen, making one meal at a time. When our food finally did come, Bob's order was wrong, but he didn't send it back because we were starving by that point. As for mine, I'll just say that my hunger pangs were not sated as I suffered through the worst chicken sandwich I've ever had. Needless to say, we'll never go back to Laurie's Place again.
As for The Wildey, I'll be happy to return. Al Canal, the manager, runs a beautiful venue very well. It's a converted movie theater that only holds about 400 people, which means there's no such thing as a bad seat for concerts there — and I say that having sat in the last row of the balcony tonight in row EE. Fortunately, the first row of the balcony is AA, so at the back, we were still in only the fifth row. With a great view and a really good sound system, we could thoroughly enjoy the proceedings, and next time Al books a band I want to see, I'll be back.
But I'll choose my a different place for the pre-show dinner.