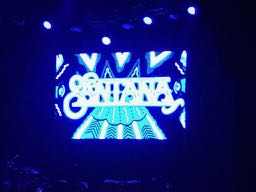 Seeing Carlos Santana in concert has been on my bucket list for a long time. He plays regularly at the House of Blues in Las Vegas, but my trips there have never coincided with any of his performance dates. So, when he announced a show at The Fox Theatre in St. Louis, I grabbed a couple of tickets and my wife and I went last night.
A Santana concert is one long jam session. The songs flowed from one to another with very few breaks in-between — but lots of solo work by the master. Santana is still one of the world's preeminent guitarists, and it's clear he was having fun onstage with his band as they tore through some new material as well as classics like "Black Magic Woman," "Oye Como Va," "Evil Ways," and "Smooth." However, I don't understand why Carlos turned his back to the crowd so often while doing solos. I had the same problem with Derek Trucks earlier this year. The band already knows what you look like when you play, so why not face the crowd of people who paid good money to watch you perform?
I have a couple of other quibbles.
The mix was terrible, with the vocals completely lost amid the wall of sound, much of which came from the three percussionists that kept the beat rolling throughout the evening, including the very impressive drummer, Cindy Blackman Santana (yes, she's his wife). We were awed by her energy all night, right up to the point where she did a 10-minute solo. Ugh. There's no need for that, since every drum solo, ever, by anyone, has been utterly boring. After several minutes, the crowd started applauding, but not because they were enjoying the banging and clanging, but because they were trying to signal to the drummer that it should end. Either that or they were drunk.
In the middle of the show, Santana brought out Ron Isley, who lives here in St. Louis, to perform a few songs from new Santana-Isley Brothers album, "The Power Of Peace." Isley in still in good voice, and there's obviously a camaraderie between the two veteran performers.
The peace theme recurred throughout the evening, with Carlos stopping the music every once in a while for a consciousness-raising message to urge more love in the world. That's fine, but when he says "we can achieve peace on Earth on our lifetime," my skeptical side asks, "Based on what evidence, Carlos? You've lived 69 years and have been pushing this message for 50 of them, and we don't seem one bit closer to that goal today." It reminds me of when, in the Vietnam War era, John Lennon and Yoko One took out newspaper ads and billboards reading "War is over if you want it." Um, no, things don't change just because we want them to, regardless of how many times we say it during a rock concert.
The person on stage who I felt sorry for was Tommy Anthony, who played rhythm guitar and — except for a few minutes towards the end when, out of the blue, he did a couple of verses of the Sting song "Roxanne" — stayed out of the spotlight. Face it, he has a thankless job, since no one will ever say "I saw Santana last night and the other guitarist blew me away!"
Fortunately, the guitarist we did come to see sounded great, and I got to check off another item on my bucket list.