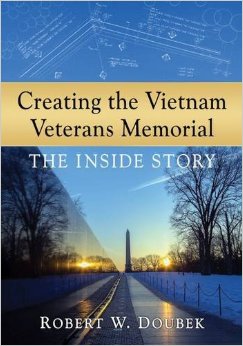 The Vietnam Veterans Memorial has become the most-visited memorial in Washington, DC. That's saying something in a city that's home to the Lincoln Memorial, the Jefferson Memorial, the FDR Memorial, the MLK Memorial, and the Washington Monument. I visited it often when I worked in DC, and was always moved by the names on its granite walls — and the people who were uniformly overwhelmed with emotion while there.
Robert Doubek was one of the vets responsible for creating the memorial, getting Congress to approve the land for it, and raising private money to fund it. As he told me today, they had to overcome quite a few obstacles, including opposition from then-Secretary Of The Interior James Watt and billionaire Ross Perot. We also discussed the backlash from choosing Maya Lin (an Asian-American) as the designer of the memorial and other stories from his book, "Creating The Vietnam Veterans Memorial."
Watch our conversation above or listen to the audio-only version, then click here to subscribe to these podcasts via iTunes!