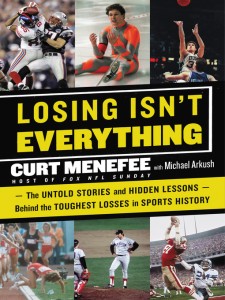 Here's my conversation with Fox NFL Sunday host Curt Menefee about his book, "Losing Isn't Everything:The Untold Stories and Hidden Lessons Behind the Toughest Losses in Sports History."
After we discussed a few things about his Sunday pregame show, he shared stories about some of the athletes he profiled in the book, from Bill Buckner to Rodney Harrison to Pete Carroll to Mary Decker, all of whom went through very public losses and low points. He explained how they rebounded or, in some cases, couldn't deal with those setbacks for a long time.
Listen, then click here to subscribe to these podcasts via iTunes!