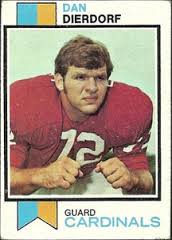 Dan Dierdorf is a Hall-Of-Famer four times over — he's in the University of Michigan Hall of Fame, the college football hall of fame, the NFL hall of fame for his 12 years with the St. Louis Cardinals, and was recognized with the hall's Radio-Television Award (one of only 4 former players to receive both of those professional honors). Now after 18 seasons with CBS and a dozen years on Monday Night Football, this is his last season calling football games on TV, so I invited him to join me on America Weekend to explain why.
We discussed what football has done to his body, the recent concussions crisis in the league, and what he would tell parents about letting their kids playing football. Then we turned the conversation to Peyton Manning's record-breaking season, what it's like to play and broadcast games in extreme cold like they'll have in Green Bay on Sunday, as well as the rest of this weekend's Wild Card games — including his surprise pick for a team that could make it to the Super Bowl.
Listen, then click here to subscribe to these podcasts via iTunes!