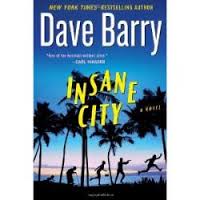 Few guests bring a smile to my face as much as Dave Barry. He was on my America Weekend show today to promote his "Insane City," his first solo adult novel in over a decade. It's set in his hometown of Miami during the days before a big wedding, with a wild bachelor party, some Haitian refugees, an orangutan, and a stripper who can only be described as oversized. Dave tried to explain the plot, but we got sidetracked onto a discussion of the Burmese Pythons that have overrun Florida — and the ridiculous contest the state held to get rid of them.
Listen, then click here to subscribe to these podcasts via iTunes!
You'll find lots of my previous interviews with Dave Barry here.