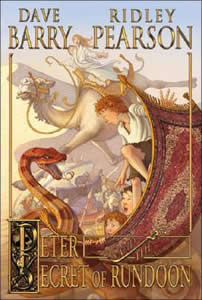 Dave Barry and Ridley Pearson returned to my show today to talk about their third Peter Pan prequel, "Peter and The Secret of Rundoon."
We discussed everything from which of them came up with the flying camel that poops on its enemies (take a wild guess!) to how the giant snake from their book manifested itself in a real-life incident at their appearance in Miami a few weeks ago. I asked them if they owe a debt to JK Rowling for getting kids to read big plot-heavy books, and whether Disney is planning a theme park ride based on the "Peter" series.
We also talked about the all-authors rock band they're in (The Rock Bottom Remainders), Dave's presidential campaign, and how long it took Ridley to answer his daughter's question which set these books in motion.
Listen, then click here to subscribe to these podcasts via iTunes!