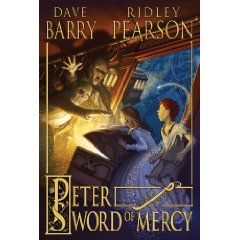 Dave Barry & Ridley Pearson were back with me today on KTRS/St. Louis to promote "Peter and the Sword of Mercy," the fourth book in their trilogy (!) of incredibly popular Peter Pan prequels.
They told stories about the appearance of a giant snake at one of their book signings, the questions they get from the kids who read their books, how they got advice from Roy Disney on sea-faring vessels, and much more.
I've had the pleasure of interview Dave and Ridley separately and together for their various projects through the years, and they never fail to come through as guests. I've also emceed several of their book signing events, where they charm the crowd of both adults and children, all of whom leave with a smile on their face and a book in their hands. They are class acts.
Listen, then buy the book, then click here to subscribe to these podcasts via iTunes!