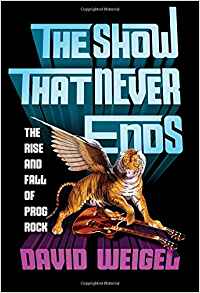 Here's my conversation with Dave Weigel about his book, "The Show That Never Ends: The Rise and Fall of Prog Rock." That's the term applied to bands like Yes, ELP, the Moody Blues, Pink Floyd, Genesis, King Crimson, and more that rose to fame in the 1970s. Among the topics we discussed:

Why it took so long for Yes to finally be inducted into the Rock and Roll Hall Of Fame;
Which band gets credit for kick-starting the progressive rock era;
Whether bands of that genre refer to themselves as "progressive rock";
The importance of album cover art;
Whether progressive rock could have existed without the synthesizer;
Why there weren't more women creating prog rock.
Listen, then click here to subscribe to these podcasts via iTunes!