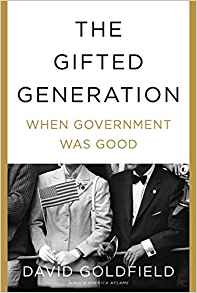 David Goldfield, a history professor at the University of North Carolina at Charlotte, has written 16 books on southern and American history. His newest is "The Gifted Generation: When Government Was Good," which focuses on the social benefits provided to the early baby boomers under presidents Truman, Eisenhower, and Johnson.
Among the questions I asked him:

Were they (Truman/Ike/LBJ) more sympathetic to working class Americans because they didn't have much when they grew up?
Truman proposed universal health care 70 years ago, but couldn't pass it — why?
What was public opinion on these matters, and were those men leading or pandering?
When did the belief that the federal government must work for all Americans begin to erode?
Are there other countries where the government continues to support its people that way?
Was there ever such a thing as progressive republicans?
Considering its current state, can American government ever be good again?
Listen, then click here to subscribe to these podcasts via iTunes!