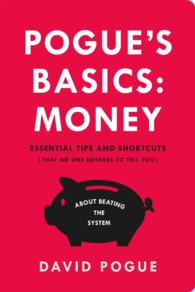 David Pogue, the man behind Yahoo Tech, returned to my show to talk about the latest in his Basics series, this one full of tips that will save you money. He has hundreds of suggestions of discounts and freebies you (and I) didn't know about, including a few that we discussed:
why you should buy your own cable box and modem instead of paying rent to the cable company every month;
what your options are if you cut the cord and just watch TV online instead;
why you should have a credit card that pays you cash back instead of airline frequent-flier miles;
why you shouldn't change your car's oil every 3,000 miles;
how you can get your flat tire repaired for free;
how you can get Starbucks to give you coffee that's hot but won't burn your mouth;
a problem with AT&T's "unlimited" data plan that they don't warn you about.
The full title of David's book is "Pogue's Basics: Money — Essential Tips and Shortcuts (That No One Bothers To Tell You) About Beating The System."
Listen, then click here to subscribe to these podcasts via iTunes!
Previously on Harris Online…