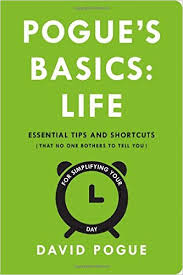 Here's my conversation with David Pogue of Yahoo Tech, Scientific American, "Nova" on PBS, and "Sunday Morning" on CBS, about his new book, "Pogue's Basics: Life — Essential Tips and Shortcuts For Simplifying Your Day." Pogue says that life hacks have gotten a bad name on the internet because so many are absurd or just don't work, but in his book, everything has been tested and proven to work. Among the topics we discussed:

How my wife is right that you can leave the butter out instead of refrigerating it;
Why you should send yourself a text message as soon as you get off a plane;
Why you need your car's air conditioner on cold days;
How to save more money on hotel rooms with your phone than with your laptop;
How to save money on razor blades;
What is vampire power and how much are you using?
How we'll soon have a uniform way to plug stuff in, instead of needing multiple adapters that aren't interchangeable;
How there's no magic cure to get rid of that fat hanging off your belly;
How to know which side of a rental car the gas tank is on.
Listen, then click here to subscribe to these podcasts via iTunes!
Previously on Harris Online…