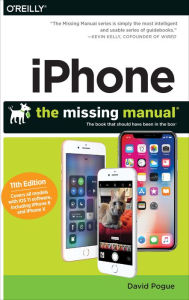 David Pogue is the tech columnist for Yahoo Finance, writes a monthly column for Scientific American, contributes to "CBS Sunday Morning" and "Nova" on PBS, and has written or co-written over 100 books. His latest is yet another updated edition (the eleventh) of "iPhone: The Missing Manual." If you got an iPhone 8 or iPhone X for the holidays — or gave one as a gift — get this, too, because it's full of all sorts of information you'll want to know.
Before we got into his iPhone tips, David and I discussed the Meltdown and Spectre security flaws that could be a problem in all sorts of devices from several manufacturers, and whether you can do anything about it. Then we talked about Apple's battery problems and the public relations nightmare it created for itself by not telling the public what was going on.
From there, we moved into new iPhone features like Emergency SOS, additional parental controls, and whether Face ID could cause you privacy problems. We also discussed Siri vs. Alexa, why no one's angry with Amazon, and whether we'll have truly wireless charging anytime soon.
Listen, then click here to subscribe to these podcasts via iTunes!
Previously on Harris Online…