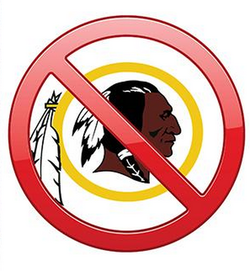 Last week, the US Patent and Trademark Office canceled the Washington Redskins' trademark registration, saying the team's name and logo are disparaging. I wrote a lengthy piece on this subject and, because I was on the air in DC for 13 years, have talked about the controversy several times.
But what does this ruling mean? Is it a victory for opponents who want the team to change its name? Will it increase pressure fro the NFL on owner Daniel Snyder, who claims he will never do that? Does the loss of the trademark mean that anyone can now print Redskins t-shirts and other merchandise?
I posed all of those questions to Washington Post reporter Theresa Vargas, who is covering the story, on my America Weekend show. I also revealed how the Redskins did bow to public pressure some 30 years ago when some of the lyrics to their fight song, "Hail To The Redskins" (which is played after every touchdown and field goal in their home stadium) were re-written to remove phrases that were deemed too offensive to Native Americans.
Listen, then click here to subscribe to these podcasts via iTunes!
Previously on Harris Online…