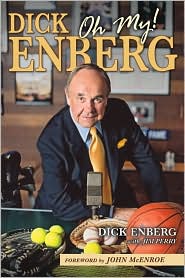 Any sporting event is made better by having Dick Enberg announce it. The man has done it all and is still at the top of his game. My wife and I loved watching him this afternoon while Melanie Oudin continued her Cinderella story at the US Open with a comeback victory against Nadia Petrova.
As always, Enberg knew when to remain silent and let the pictures tell the tale, how to best set up his colleagues John McEnroe and Mary Carillo (combined, they are the best three-in-the-booth team ever), and when to sprinkle in his Enberg-isms, those phrases that no other sportscaster uses to help underscore what we're watching:
After Oudin hits a winner down the line to cap a long rally: "A delicious point by the teenager!"
After a shot of Petrova in her chair during a changeover trying to psych herself up to play better: "There's Petrova in a clubhouse meeting with herself."
After an Oudin lob lands perfectly over Petrova's outstretched arm: "To the Russian's dismay, the young Georgian puts it on the line!"
Finally, after Petrova hits one last shot just a few inches too long, giving Oudin the match: "It ain't Broadway, but a star is born in New York!"
I've been honored to talk with Enberg several times over the years, but my favorite was in February, 2005, when he published his autobiography, "Oh, My!" Listen to the conversation here.