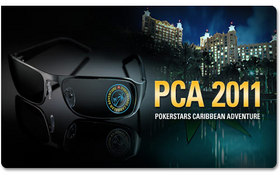 Today on my Final Table poker radio show, while I was in snowy St. Louis, Dennis Phillips reported from the sunny Bahamas at the PokerStars Carribbean Adventure, the world's second-largest poker tournament.
We talked about Dennis playing Day 2 of the $2,000 buy-in event today, the results of the $100,000 buy-in Super High Roller event, the cash games full of loose online players, and one of the hands Dennis played in the PCA Main Event this weekend. The field for that tournament was huge, and you'll be able to watch the final table live this Saturday at 4pm CT on ESPN3.com, with ESPN2 joining the coverage from 9pm CT to the conclusion.
Dennis also announced the details behind PokerStars' brand-new innovation, Home Games Online, where you can play a tournament or a cash game with just you and your friends invited — your own private poker club.
In our news segment, we talked about two big stories:
the recent theft of a player's cash and chips from a game in the Bellagio poker room (which I wrote about here);
the New Jersey legislature passing a bill that would allow online gambling within that state (not just poker, but craps, blackjack, roulette, and any other game offered at a casino in Atlantic City), and whether that's good or bad for poker players.
Next week on The Final Table, we'll talk with Prahlad Friedman, who said he'd never "sell out" and be sponsored by an online poker site, but did just that last week in signing with UB.com.
Listen, then click here to subscribe to these podcasts via iTunes!