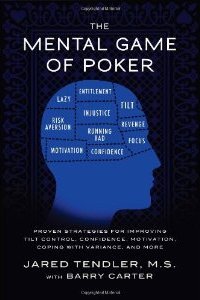 Today on The Final Table poker radio show, Dennis was in London, where he played the EPT Main Event, while I was at Harrah's St. Louis, joined by Scott Long, publisher of Ante Up Magazine (which has a nice story on us in this month's issue).
We talked about the French businessmen who want to acquire Full Tilt Poker, what that would mean for players who still have cash on the site and whether they would return to play there, whether the DOJ and the Alderney Gaming Control Commission would permit new owners to re-start the business, and whether any pros would want to be sponsored by a business whose name has been de-valued so much in the marketplace.
Then Scott explained what it's like to be a poker media outlet dependent on advertising in this post-Black-Friday environment, and the effect it's had on the brick-and-mortar casinos he's been visiting. He also provided an update on the poker scene in Florida, where he's based.
In our guest segment, I talked with Jared Tendler, author of "The Mental Game of Poker" (which is now available in paperback, Kindle, Nook, and pdf editions). He explained the different types of tilt players experience, how to handle them, and how tilt can be beneficial to your game if you recognize the problem. He also defined "mental game fish" and the role of emotion while playing.
Listen, then click here to subscribe to these podcasts via iTunes!