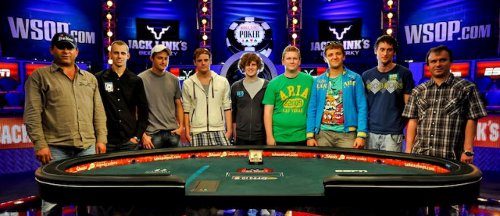 Today on The Final Table poker radio show, we spent the hour analyzing the WSOP Main Event November Nine, who played down to the final three on Sunday. Dennis was at the Rio for most of that day and explained what the scene was like, both in the crowd and on the stage, while I watched ESPN's near-live broadcast from home. We discussed the play, the coverage, and which of the three finalists — Martin Staszko, Ben Lamb, or Pius Heinz — would be best for the game of poker if he wins the finale tonight.
Our guest was Matt Giannetti, who finished fourth, winning $3 million. Matt offered a very frank analysis of two big hands he lost to Heinz and Lamb, revealed how he'd prepared for the final table, and explained the impact of friends and fans sharing information with the players from the 15-minute-delayed TV broadcast.
Listen, then click here to subscribe to these podcasts via iTunes!