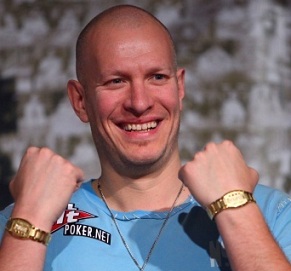 Today on The Final Table poker radio show, we squeezed in two guests, plenty of news, and full details on the schedule and structure of the tournaments that will make up the Gateway Poker Classic series beginning this Thursday (December 1).
We began with two new kinds of tournaments Dennis encountered at Bellagio, each of which requires some novel strategic thinking. In one, you can buy-in to Day 1a, 1b, and 1c — and keep all the chips you've accumulated going into Day 2, rather than just your biggest stack. The other was a "position poker" tournament, in which the person who wins each hand then gets to act last (after the button!) on each betting round of the next hand.
In our news segment, we discussed Tobey Maguire, Gabe Kaplan, and other Hollywood celebrities settling a lawsuit filed by victims of a Ponzi scheme operator looking to recoup huge amounts of money lost in a Hollywood home game. And we debated whether Barney Frank's impending retirement from Congress will hurt the effort to get online poker legalized, licensed, and regulated in the US.
Our first guest was Greg Mueller, winner of 2 WSOP bracelets and over $1.7 million in tournament winnings. We talked with him about his hand analysis work on ESPN's coverage of the World Series Of Poker this fall, a famously classy play he made in this year's Main Event, how he controls his inner maniac, and — since he was a Full Tilt pro — his thoughts on the indictments and possible sale of that online site.
Then we spent a few minutes with 2006 Main Event champion Jamie Gold, who's promoting a poker seminar he'll do this Friday at the Peppermill Casino in Reno, where he and Dennis and other pros will play in a Heartland Poker Tour event this weekend.
Listen, then click here to subscribe to these podcasts via iTunes!