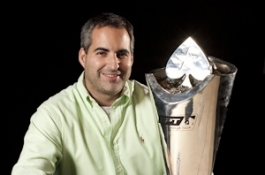 Today on the Final Table radio show, Dennis shared more stories from the PokerStars Caribbean Adventure in the Bahamas, including an oddly-played hand in a cash game and a great run of events for 2010 WSOP Main Event Champion Jonathan Duhamel.
In our guest segment, we talked with Matt Glantz, who has won over $4 million in poker tournaments, including a big year in 2011. He discussed his success in high-stakes mixed-games, his involvement in the Epic Poker League Standards and Conduct Committee, and his recent blog post about Responsibility In Poker (in which he urged poker pros to realize how their actions reflect on the entire industry).
Reminder: if you're going to be in St. Louis over the next two weekends, there are a couple of events you should be a part of at Harrah's St. Louis. On January 21 and 22, you can play in the $200 double-shootout World Series Of Poker Main Event Qualifiers, and on January 27-29, it's Big Game 2 weekend — with at least two tables of $25-50 no-limit hold'em ($15,000 minimum buy-in) and two other tables of $10-20 no-limit hold'em ($2,500 minimum buy-in). If you're interested in playing, send your name and e-mail to the address on the right side of this page and we'll send you full details on how to lock up a seat, get a discounted hotel room, wire money to the poker room cashier, etc.
Listen, then click here to subscribe to these podcasts via iTunes.