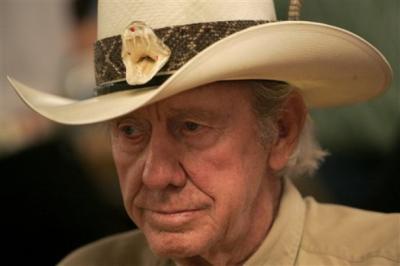 Amarillo Slim died last night at a hospice in his hometown in Texas at the age of 83. Slim won the World Series Of Poker Main Event in 1972, which got him an invitation to "The Tonight Show Starring Johnny Carson" and other media outlets, making him the first poker superstar — for many people, he was the only professional gambler they'd ever seen on television.  He was inducted into the Poker Hall Of Fame in 1992.
In his memory, we're releasing this special edition of The Final Table poker radio show, consisting of an interview we did with Slim in the summer of 2009 at the Rio in Las Vegas. The conversation was only supposed to last 10 minutes, but Slim kept telling stories, and we weren't about to stop him. In all, he talked for about 45 minutes before his agent finally told us to wrap it up so he could get to another appointment.  We cut up that discussion and ran it in pieces later that summer on several Final Table radio shows, but this is the first time we've released it in its entirety.

Among the topics Slim touched on:
his friendship and adventures with Doyle Brunson and Sailor Roberts, as the original road gamblers;
how he beat a world ping-pong champion by playing him with unusual paddles;
his adventures on the horse track, including beating a racehorse in a foot race;
how he won a blindfolded bowling bet.
In this interview, Slim was also very candid about the child molestation allegations made against him six years earlier.  He explained what happened that day, why he pleaded guilty to a lesser charge, and how the charges made him a pariah to many in the poker world.  Slim hadn't spoken publicly about any of this until earlier that year in a published interview with Nolan Dalla, and this was the first broadcast interview he'd given on the subject.
One of Slim's last public appearances was at the WSOP Circuit Event here in St. Louis in April, 2011, where he played in a few tournaments and cash games.  I hadn't seen Slim since our 2009 conversation, but was happy that he remembered me as we sat down in a pot-limit-Omaha game.  As always, it didn't take much to get him to share some stories, joke around with the other players at our table, and even sign a few autographs.  Both of those occasions are on my mind today as we remember Thomas Austin Preston, Jr.